MINDinMIND and the Parent-Infant Foundation present:
LIVE 2023 Pregnancy Symposium: Strengthening Bonds, Advancing Equity and Promoting Emotional Well-Being for Infants and Caregivers
June 14, 7.30pm-9.30pm UK / 2.30pm-4.30 pm EST
If you're unable to make this time, a recording will be made and sent to all ticket holders.
If you work with parents in the antenatal period, this event is for you!
To coincide with Infant Mental Health Awareness Week, MINDinMIND and the Parent-Infant Foundation have convened prominent infant mental health experts from both the United States and United Kingdom.
It is widely acknowledged that the period before birth is a critical time for infant development, bonding, and future outcomes. Our contributors are at the forefront of innovative services and research aimed at improving infant development, fostering bonding before birth, and combating the negative impacts of inequality.
We are showcasing some of the most successful parent-infant support programmes, interventions and pioneering services that have yielded remarkable improvements for babies.
Please be aware that while we may mention pregnant women frequently, we want to emphasise that our thoughts and inclusivity extend to all birthing people. We warmly welcome and acknowledge the experiences and needs of individuals who give birth, regardless of gender identity or expression.
Key points of discussion:
Why the period before birth is so important; our contributors will be bringing to life a neglected phase of the parent-infant relationship
Why interventions at this critical stage can be transformative for parents and infants
The impact of inequality and racism on parents bonding and connecting with their baby
Wisdom from leading clinicians and researchers shaping our understanding of the crucial pre-birth period and their impactful interventions improving babies' outcomes
We will be giving voice to parents who have experienced adversities such as inequality and racism on their pregnancy journeys
Our contributors:
Professor Alicia Lieberman – creator of Perinatal Child Parent Psychotherapy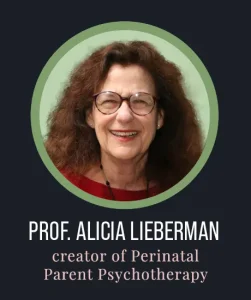 Professor Lieberman's therapeutic model of working with new parents is a clinically proven intervention, a highly effective psychodynamic evidence-based treatment that has been implemented globally. She is an internationally acclaimed clinician, researcher, and teacher. Her latest book is Make Room for Baby: Perinatal Child-Parent Psychotherapy to Repair Trauma and Promote Attachment
Discussing:
Ghosts in the nursery: how parents' own trauma histories get in the way of effective parenting
Bonding as an intricate dance of emotional attunement, trust, and reciprocity
Mother-infant relationship before birth
How sensitive, skilful infant-parent psychotherapy can be transformational for parents and their babies
How her cross-cultural background as a Jewish Latina informs her work with diverse children and families
Clinical research studies showing the effectiveness of Perinatal Child-Parent Psychotherapy
Professor Catherine Monk – Prof Women's Health Colombia University: 'The first 9 months shape the rest of your life.'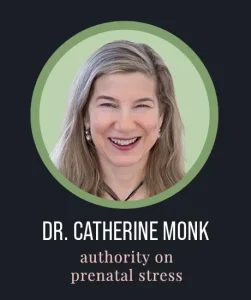 Dr. Catherine Monk is a renowned authority on the developmental impact of maternal prenatal stress and the Diana Vagelos Professor of Women's Mental Health at the Vagelos College of Physicians and Surgeons, Colombia University.
She spearheads a pioneering research lab that investigates how the first nine months of life shape an individual's future as well as directs an embedded mental health service in the ObGyn Department.
Dr. Monk will describe her research lab's neuroscience and clinical findings, shedding light on the impact of prenatal stress on fetal and child development:
Associations between a mother's mental health and her child's future mental health
Women's experiences of depression, stress, medication use, and nutrition contribute to the shaping of fetal and infant neurobehavioral development
The biological processes involved in transmitting pregnant women's experiences to the fetus
Identifying the impact of maternal distress across two generations, she and her colleagues developed an intervention to reduce mood symptoms during pregnancy and prevent postpartum depression. She will describe clinical trial results of this clinical approach, which leverages the mother-child bond that starts prior to birth.
Fiona Laird, Award Winning Consultant Midwife, Clinical Lead for Perinatal Mental Health
Fiona Laird is an experienced midwife with a remarkable career spanning 33 years, including 14 years in senior roles. She has amassed a diverse range of expertise, holding various positions such as Maternity Commissioner and Head of Midwifery & Gynaecology. In her current role, she has served as the clinical lead for Perinatal Mental Health for the past 5 years. Her significant contributions to midwifery have been recognized at the national level, winning three RCM awards. Fiona is also a founder of the charity Medical Aid Films and has been honoured with the Chief Midwife Gold Award for her exceptional services to the field of midwifery.
Discussing:
Why mental health is fundamental to her team's care of patients
Continuity of care during pregnancy and why it can transform outcomes
Group and alternative approaches to increasing bonding such as mindfulness, hypno-birthing, belly moulding and painting, walking and crafts
Fiona has worked all over the world including California, Tijuana in Mexico, Nepal, and war zones of Darfur, Sudan, and Chad. She will be discussing her efforts against Sexual Gender-Based Violence as part of her work with Medicin sans Frontier.
Mellissa Jhagroo – Midwife & Team Leader of Magnolia Perinatal Mental Health Team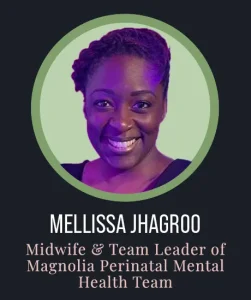 Mellissa leads a very special team of midwives who assist women primarily of Caribbean or African descent. Their groundbreaking strategies in supporting mothers struggling with mental health challenges, racism, and poverty was recognised with the prestigious Royal College of Midwives' 2021 Excellence in Perinatal Mental Health award. In this discussion, we will explore how Melissa's team empowers women with preexisting mental health issues to achieve positive pregnancies and excellent outcomes for their babies.
Dr Lisa Marsland–Hall Consultant Clinical Psychologist: transforming relationships in disadvantaged families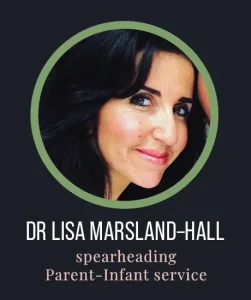 Lisa Marsland-Hall is the Parent Infant Mental Health Lead for Mersey Care NHS Trust and clinically leads a number of trailblazing Parent Infant Mental Health Services called BABS (Building Attachment & Bonds Services).
BABS have a strong, integrated partnership with Early Help and Children's Social Care. Over the past 8 years they have prevented many babies from entering the Care System and evidenced life changing outcomes.
Discussing
Innovative ways of working with vulnerable families to build bonds & prevent removal/separation of children
How poverty & social disadvantage can affect pregnancy and infant outcomes
Effects of deprivation & social disadvantage on bonding and attachment
'Hard to reach families? Or hard to reach services?' How we can work better to engage & support parent-infant relationships
Why systemic failures to break cycles of ACES is traumatising families
Ben Yeo, Child and Adolescent Psychoanalytic Psychotherapist and Clinical Advisor at the Parent-Infant Foundation: why the relationship before birth needs nurturing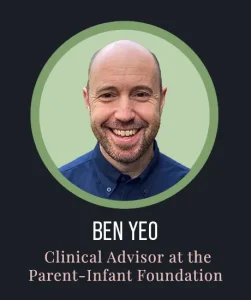 With a decade of experience in the UK National Health Service, Ben Yeo brings a wealth of expertise and a psychoanalytically informed approach to his work with Specialised Parent-Infant Relationship Teams.
Through his work in the Lambeth Early Action Partnership (LEAP), a diverse and disadvantaged area of London, Ben has gained a profound understanding of the intricate dynamics involved in supporting babies and caregivers facing complex challenges, including mental health issues, poverty, and inequalities.
Discussing:
Psychoanalytic model of working in prenatal period
Psychological theories that can be helpful for our thinking on pregnancy
Fathers: the increasing and changing role fathers play in pregnancy, bonding and the impact they can have on their baby's outcomes
Importance of working in a team around the parent-infant relationship including with other professionals such as midwives
Parental representations of the baby, the relationship before birth that needs nurturing and supporting
Highlighting the work of Specialised Parent-Infant Relationship Teams across the United Kingdom
Impact of Racism and Inequality
More to come…..We will also be hearing from professionals, campaigners and parents highlighting the effects of racism and inequality on the parent-infant relationship and maternal outcomes.
There will be time for questions from the audience. So please do get in touch with yours!
If you're unable to make this time, a recording will be made and sent to all ticket holders.
Contributors will be in conversation with Jane O'Rourke, Child, Adolescent and Family Psychotherapist and Founder of MINDinMIND and Ben Yeo, Child and Adolescent Psychoanalytic Psychotherapist and National Clinical Advisor for the Parent-Infant Foundation.
More information about Infant Mental Health Awareness Week 2023 – Bonding Before Birth
This event is a collaboration between MINDinMIND and The Parent-Infant Foundation.
The Parent-Infant Foundation has set the theme and co-ordinated Infant Mental Health Awareness Week for seven years, during which time it has grown into a global event. The aim is to improve awareness among healthcare professionals, commissioners, policy-makers and the general public, of the importance of infant mental health and parent-infant relationships. This year's event runs from 12th-18th June and the theme is 'bonding before birth'.
The vision of the Parent-Infant Foundation, a charity based in the UK, is that all babies have a sensitive, nurturing relationship to lay the foundation for their lifelong mental and physical health. The Foundation supports specialised parent-infant relationship teams across the UK, and campaigns to convince national and local decision makers to do more to support parent-infant relationships.
Payment options
MINDinMIND has no income stream, and we depend on donations and ticket sales to keep putting out content like our legacy interviews.
£30 … ticket price please choose this option if you can
£15 … ticket price for unemployed and low waged
Note to our friends in USA and elsewhere, we are only able to show ticket prices in one currency. The price will be converted into your currency. Full priced tickets are roughly $30 USA / $45 Australian /29 Euros depending on currency rates of the day and can be purchased in the normal way.
Please do get in touch if you are experiencing financial hardship and wish to attend as we have a number of sponsored tickets:
More about MINDinMIND
On MINDinMIND you'll find some of the world's leading clinicians and wisest minds working in child mental health. T hey are sharing what they know about what best helps children and families.
When children and young people get into emotional difficulty, the adults who care for them need access to the latest information and thinking about child mental health.
So whether you're working therapeutically, a social worker, parent or teacher, here you have free access to interviews, research and in-depth thinking on psychological issues such as anxiety, trauma and depression and how children and their families can cope during these times of extreme challenge.
And we are now adding webinars focussed on the most pressing issues affecting child & family mental health. They are donation-based or low cost so that everyone regardless of their income can access them.
Join our community by signing up for our email updates to let you know when new interviews, research and webinars are coming up.